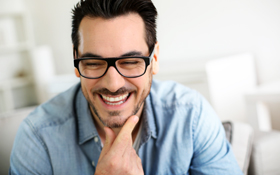 Why should you restore damaged teeth?
Eliminate sensitivity and dental pain
Ensure easy chewing and speech
Regain your confidence in a beautiful smile
Guard the rest of your healthy smile
Why do patients replace missing teeth?
Recuperate self-esteem
Enjoy smiling and laughing more
Prevent other teeth from shifting out of place
Prevent future tooth and bone loss
Today, there are a variety of natural-looking restorations to protect your beautiful smile. Dr. Tatiana Shifrin is happy to offer the latest restorative options to her valued patients.
Dental Implants
These innovative implants have changed the way we restore missing teeth! Dental implants can be used to replace one, several, or a full smile of missing teeth.
Implants are titanium rods that take the place of missing tooth roots. They stimulate the jawbone and anchor the new teeth firmly into place.
Dental Crowns
We design our dental crowns with high-quality materials that are specially matched to your unique smile. Nothing looks better than a well-made porcelain crown.
Crowns will restore strength and beauty to your smile.
Root Canals
Root canals get a bad rap, but in reality, they are smile-saving. They save natural teeth and eliminate severe pain. We perform comfortable root canal therapy here at Duluth Dental Center to rebuild your beautiful smile without tooth extraction.
Dental Bridges
Dental bridges are another great way to replace missing teeth. There are several types of bridges. Whichever kind you choose, the customized replacement teeth will "bridge" the gap and restore your confident smile.
You are in Good Hands!
You are in good hands at Duluth Dental Center. Whatever your restoration path may be, we will watch over you from the first consultation through recovery.
Achieve a comfortable procedure and a perfect new smile with restorative dentistry. Call today to learn more about our innovative restorative options. Dr. Shifrin and her team look forward to serving you!