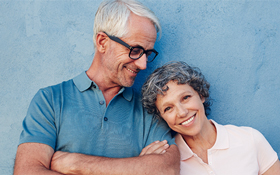 Believe it or not, millions of Americans are losing their teeth due to gum disease. Even with modern dentistry, tooth loss is still quite common in patients who do not receive gum disease treatment before it is too late.
Brushing, flossing, and routine professional cleanings all contribute to gum health. Unfortunately, gum disease may even affect patients with good oral health habits.
If you have tooth decay, gum disease, or physical trauma that leads to tooth loss or tooth extraction, we would love to assist you with the restoration. Dr. Shifrin wants to take away the frustration of tooth loss and replace it with a confident and beautiful new smile!
Dental implants are a patient favorite for smile replacement. We both install and restore dental implants with advanced technology at Duluth Dental Center.
What are the Benefits of Dental Implants?
Dental implants closely match the appearance of natural teeth
Dental implants are the most secure tooth replacement solution, so you can feel confident while you eat, drink, and speak
Dental implants are very comfortable and feel similar to natural teeth
Dental implants are highly durable and can last for decades
Dental implants stimulate the jawbone and ensure its proper function in the years to come
What are Dental Implants?
Dental implants are replacement tooth roots. They are made of a medical-grade titanium that is received well by bone. Your jawbone will actually fuse with the dental implants so the implants can take on all of the functions of true tooth roots.
After dental implant placement and healing, we will restore the dental implants with beautiful crowns, bridges, or dentures. You are going to be happy with your results.
Dental implants can be brushed and flossed as if they are normal teeth. They are impervious to tooth decay and can last a lifetime!
To set up your dental implants consultation, call Duluth Dental Center today.