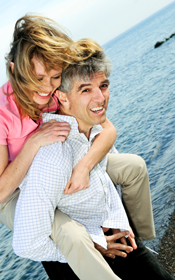 Tooth loss not only affects your self-confidence but also increases your risk of developing health and nutrition problems. Fortunately, we can treat tooth loss at Duluth Dental Center with beautifully customized dentures.
Dentures will give you the confidence to smile and laugh. They will make chewing and speaking an easy process again.
What are Dentures?
Dentures are removable appliances that replace natural teeth. They can be full or partial sets and are carefully crafted to complement your face and match any remaining teeth.
Types of Dentures Include:
Full dentures: Full dentures are best for patients who are missing all teeth in the upper or lower arch. Patients with extensive dental damage may also choose to have the teeth extracted and replaced with reliable dentures. Full dentures consist of a gum-colored base and porcelain or plastic replacement teeth.
Full dentures can be conventional, immediate, or implant-supported. Conventional dentures are placed after gums are completely healed from tooth loss. Conventional dentures are custom-fit to your changed smile and should provide a great fit.
Immediate dentures are placed instantly after tooth extraction. Patients can avoid the discomfort and embarrassment of tooth loss by replacing teeth immediately. Patients should return to the office as their gums heal so that we can adjust the dentures.
Implant-supported dentures will help keep the jawbone in good condition and provide more secure support to your new dentures. Dental implants are placed into the jawbone in a safe procedure. Once the bone heals and fuses with the implants, we will attach your new dentures.
Partial dentures: Partial dentures are suitable for patients who are only missing some of their teeth. Unlike bridges, partial dentures can be removed by the patient. They are attached to either existing teeth by precision attachments, or to dental implants in the jawbone.
Taking Care of your Dentures
We will help you make sure your dentures look beautiful and feel natural for as long as possible. Some of the advice we give new denture patients includes:
Dentures should be worn continuously until the patient has adjusted. After a few weeks, the denture can be removed at night.
When not in use, place your denture in water or denture cleanser to preserve its flexibility.
Clean your denture every day with a nonabrasive toothpaste or cleanser and a soft-bristled toothbrush.
Handle your dentures with care, as they may break if dropped.
Let your Duluth Dental Center team know if you need any adjustments or help with your dentures. We want to give you a new smile that you love! To schedule a free consultation, contact our office today. We serve the Duluth, Johns Creek, Lawrenceville, Lilburn, Norcross, Suwanee, and nearby areas.