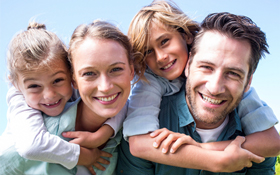 Dr. Shifrin loves providing high-quality dentistry to families in the area she grew up in. General dentistry includes preventative and restorative treatments. We offer exams, cleanings, oral cancer screenings, and so much more.
You deserve superior quality care. You should feel valued in your dental office, and part of a compassionate family. Our team loves what they do and would be happy to welcome you and all of your loved ones into our office soon.
Duluth Dental Center is a full-service dental practice. We offer all of the dental treatments necessary to optimize your smile. Dr. Shifrin always uses state-of-the-art equipment and current dental techniques.
One Team to Oversee All of Your Dental Needs!
Don't drive from office to office. Let our team get to know you. Discuss your needs, preferences, and concerns with us.
The Duluth Dental Center team will tend to all of your oral health needs and the needs of your family members. With continuity of care, you can enjoy the following benefits:
Your dentist is qualified to identify potential issues in the earliest stages
You will be able to avoid unnecessary treatments
Your knowledgeable team will give you the best results possible
No repeat explanations of your concerns and health history
When one team knows you and knows your needs, your quality of care increases exponentially.
Services We Provide
Checkups and cleanings
Crowns and bridges
Teeth whitening
Tooth-colored fillings
Gum disease treatment
Extractions
Emergency dental care
Root canal therapy
And more
Regular general dentistry visits are essential to your overall health. We will reduce plaque buildup and catch health threats early for more affordable and successful treatment.
Safeguard your smile. You can trust our professionals to strengthen your smile and the smiles of your loved ones for years to come. Schedule your appointment at Duluth Dental Center today!